29. November 2016
Kunstpreises 2016 der Stiftung Kunst, Kultur und Bildung der Kreissparkasse Ludwigsburg
19 Uhr
im Louis-Bührer-Saal der Kreissparkasse in der Uhlandstrasse 10, 71638 Ludwigsburg
05 November
Xxx, a cultural event dedicated to Performance.
Im Café Faust,
FAUST, Geschwister- Scholl- Straße 24C, Stuttgart, DE
https://www.facebook.com/events/1242915952416768/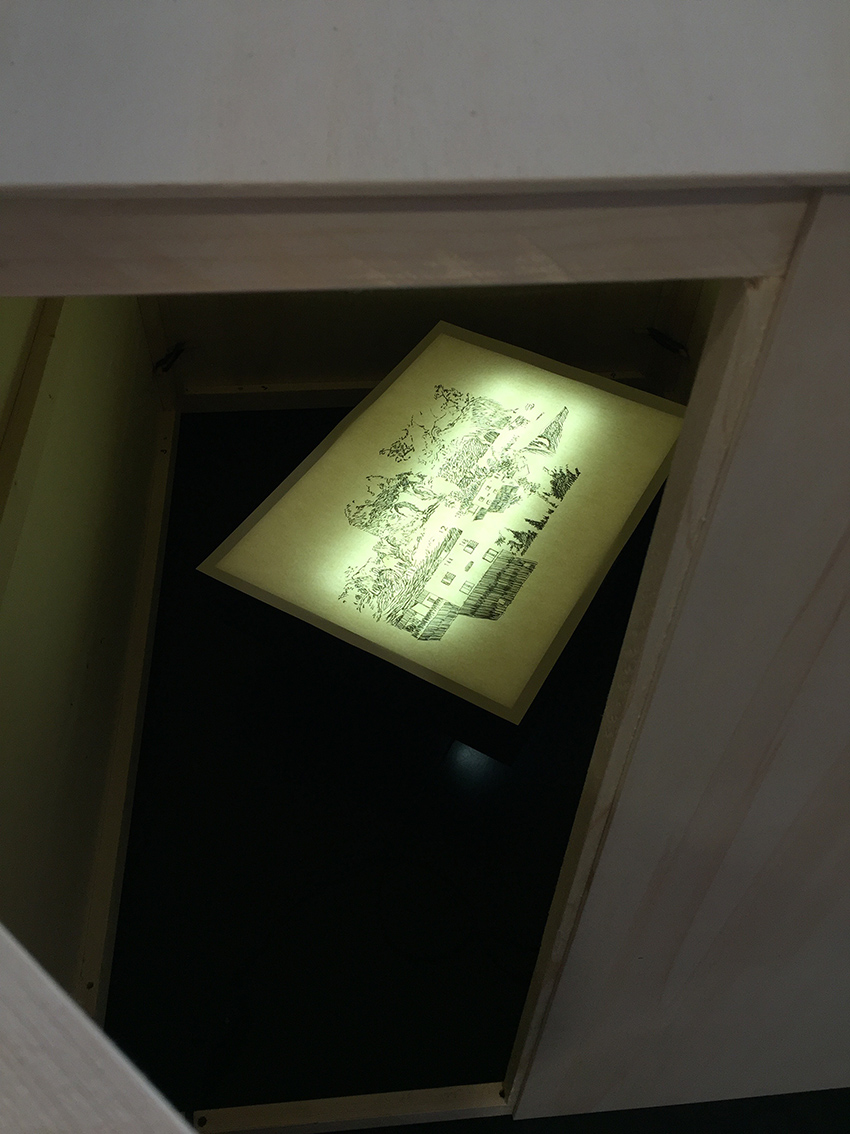 15 Oktober - 04 November
30 Jahre Retour de Paris
Zum Jubiläum der Ausstellungsreihe "Retour de Paris" bespielen zehn ehemalige Stipendiatinnen, die auch heute noch als Brückenbauerinnen zwischen Frankreich und Deutschland wirken, das Haus mit einzigartigen Videoinstallationen und Performances:
Während auf dem Dach des Instituts emblematisch die deutsch-französische Freundschaftsfahne von Anna Tretter weht und Dorothea Schulz eine Auswahl ihrer französischen Sprechblasen zeigt, lässt das Stuttgarter Filmemacherduo Böller und Brot das Publikum mit seinen schönsten Daumenkinos spielen. Oana Vainer und Ragani Haas beleben den Abend mit eigens dafür produzierten Performances über ihre Identitätsfindung als Künstlerinnen. Die Videoarbeiten von Katrin Ströbel, Bettina Erzgräber und Ulrike Flaig zeigen deren poetische Wahrnehmung von Frankreich bzw. Paris – die Bilder und Texte von Claude Horstmann hingegen zeugen von einer ganz speziellen Auseinandersetzung mit der Stadt Marseille. Und dann ist da noch Monika Nuber, die mit Anja Füsti eine in Paris entstandene Musik- und Videoperformance weiterführt und mit im Laufe des Abends entstehenden Schallplattenzeichnungen überrascht.
Zur Eröffnung sprechen Nicolas Eybalin, Generalkonsul Frankreichs in Stuttgart und Leiter des Institut français Stuttgart, Petra Olschowski, Staatssekretärin im Ministerium für Wissenschaft, Forschung und Kunst BW, und Jean-Baptiste Joly, Direktor der Akademie Schloss Solitude und Mitbegründer der Reihe.
Eröffnung: 15.10, 17:30h
https://www.stuttgart.institutfrancais.de

Institut francais Stuttgart
Schloßstraße 51
Stuttgart
Deutschland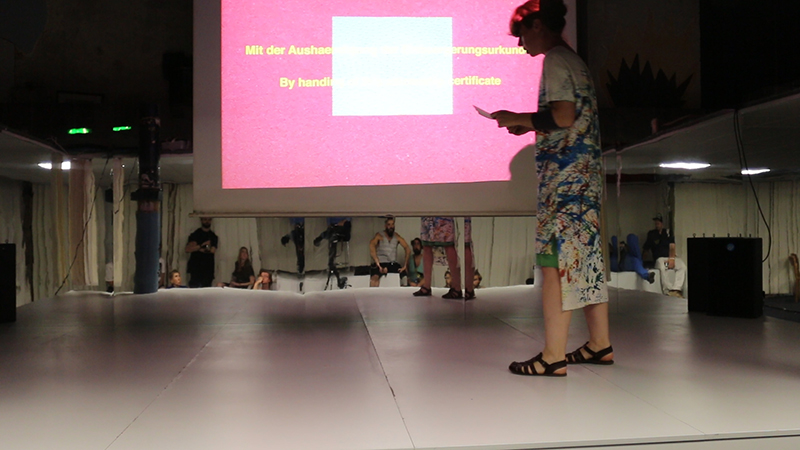 03.08.2016
20.30
THE LESS I KNOW THE BETTER
Performance with T. Christoph Land
Cabaret Voltaire, DADA Haus, Zürich
Manifesta 11
http://m11.manifesta.org/de/artist/oana-p-vainer
12 March - 08 April 2016
AN OVERVIEW ON THE SIMULTAN FESTIVAL VIDEOART ARCHIVE,
MAGMA Contemporary Art Space,
Sepsiszentgyörgy / Sf. Gheorghe, Szabadság tér / Piața Libertății nr. 2. Romania
28.04. – 05.06.2016
Wege/Ways
Ausstellung zeitgenössischer Positionen
der Partnerstädte Caerphilly und Ludwigsburg
Kuratorin: Heike Grüß
TILL ANSGAR BAUMHAUER | TRACEY MOBERLY | ISLAMIYA SCARR LINDA SCHWARZ | OANA P. VAINER
Vernissage: Donnerstag, 28.04.2016 um 19 Uhr
Performance 28.04., 20 Uhr
http://www.karlskaserne.de/site/Ludwigsburg-Karlskaserne/node/2494431/Lde/zmdetail_523049978217/index.html?nodeID=523049978217
19 aprilie - 6 mai
Sol Lucet Omnibus

Curatoare Valentina Iancu
Centrul Artelor Vizuale Multumedia
Str. Biserica Enei nr. 16
Vernisaj - 19 aprilie, ora 19
Performance 19 aprilie, ora 20

Finisaj - 6 mai, ora 18

Expoziția va fi deschisă în week-end-ul galeriilor de la 12 la 21.
https://www.facebook.com/events/628382353996467/
15.01.2016, 20.oo
16.01. - 17.01. 2016
Flirt
Oana Vainer + Lea Rasovszky + Florina Leinss
Im Hinterzimmer
Waldhornstr. backyard between no. 27 and 29,
76131 Karlsruhe, Germany
http://im-hinterzimmer.blogspot.de/2015/12/upcoming-exhibition-in-january-oana.html
19.12.2015
from 19.00,
Atelier Ameisenberg #2,
Ameisenbergstr. 61, Stuttgart

Book release: "Everything in the world exists in order to end up in a book"
With contributions by:
Tobias Buckel
Micha Dengler
Daniel Djamo
Virginie Gouband
Charlotte Klink
Max Leiß
Adrianna Liedtke
René Odermatt
Anahita Razmi
Aleschija Seibt
Charlie Stein
Jens Stickel
Yann Vanderme
Oana Paula Vainer
Qingmei Yao
https://www.facebook.com/events/1041739839180825/
7-10 october
SIMULTAN 2015 "TALKING TO STRANGERS", 11th edition, Timisoara, RO
MEDIA ART / EXPLORATORY MUSIC AND SOUND
http://11.simultan.org
25.10.2015

Video Social Club,
http://www.videosocialclub.org.uk/video-social-club-1-weekenders/
Performance
A White Spot #2,
AKTIONSRAUM. Ein Raum, ein Labor, viele Aktionen
Württembergischer Kunstverein, Stuttgart
http://www.wkv-stuttgart.de/uploads/media/programm_08.pdf
https://www.facebook.com/events/924003261024799/
07.08.2015 - 29.08.2015
Oana Paula Vainer
Portal@Sawtooth
Sawtooth Ari Gallery, Tasmania
http://sawtooth.org.au/current
http://us5.campaign-archive1.com/?u=e2f31c1f881ecb2ee36a9a969&id=b7aeea503c
05.08.2015
Performance
MAY JUNE JULY AUGUST SEPTEMBER OCTOBER NOVEMBER DECEMBER JANUARY FEBRUARY MARCH APRIL, 2014-2015
Institut francais, Stuttgart
19.30
28.07.2015 - 03.08.2015
A White Spot II, A Performance for 5 days and many more trees, Germany - Romania - Germany
https://www.facebook.com/events/1734945266733132/
09.07.2015
Double Boucle
Institut français Stuttgart, Schloßstraße 51, 70174 Stuttgart
Vernissage: Donnerstag, 9. Juli, 19.30 Uhr, 20.00 Performance Der Kuss

Finissage: Mittwoch, 5. August, 19.30 Uhr
Ausstellungsdauer: 10. Juli - 5. August

https://stuttgart.institutfrancais.de/kalender/veranstaltung/2015-07-09t173000-2015-08-07t140000-double-boucle-aleschija-seibt-oana-vainer-retour-de-paris-ndeg-85-86
30.04.2015
19.00
Atelier Ameisenberg #1
Ameisenbergstr. 61, Stuttgart
https://www.facebook.com/events/1643709985858570/
15. bis 30. Januar 2015
Connexion en cours
Goethe-Institut - 17 avenue d'Iéna, 75116 Paris
http://www.goethe.de/ins/fr/par/ver/de13759074v.htm
December 13, 2014
TALENT BORROWS GENIUS STEALS
https://charliestein.wordpress.com/2014/12/18/talent-borrows-genius-steals-_-first-glance/
18. Dezember 2014
Performance im Rahmen des Bouvard und Pecuchet 3000 Projektes, Ein performatives Forschungslabor in 10 Kapiteln frei nach Flauberts fast gleichnamigem Roman, in Theater Rampe
http://theaterrampe.de/stuecke/kapitel-10-liebe/
10. Dezember 2014 - 22. Januar 2015
Illuminartion,
Reinhold-Würth-Hochschule, Daimlerstr. 35, 74653 Künzelsau
21. - 25.October 2014
A STUDIO IS A STUDIO IS A STUDIO IS A STUDIO IS A STUDIO IS A STUDIO IS A STUDIO IS A STUDIO IS A STREAMING WINDOW INTO THE FUTURE
I warmly invite you online to a series of performances located in my studio in the Cité Internationale des Arts, Paris, that take place from the 21. October 2014 until the 25.October 2014, everyday at 13.00. You can see it streamed live on here:
http://ustre.am/1ii3F ,
everyday until saturday.
21. October 2014, at 1:00pm: Blue Poetry Lecture
22. October 2014, at 1:00pm: Music session
23. October 2014, at 1:00pm: A half marathon run through the german art history
24. October 2014, at 1:00pm: Performance
25. October 2014, at 1:00pm: Performance
01. - 02. October 2014
Q2051
Cité international des arts, Paris | rue de l'Hôtel de Ville, 18,75004 Paris | Metro° Pont Marie / Saint Paul
Open: wednesday, 01. October 2014, 6pm - 10pm | tuesday, 02. 10. 2014, 12pm - 7pm.
23. August – 28. September 2014
2041. Endlosschleife
24.09.2014, 19pm, Performance MAY JUNE JULY AUGUST, 2014
http://www.wkv-stuttgart.de/
17. June - 18. June 2014
SYMMETRICAL REFLECTION
CITé INTERNATIONALE DES ARTS, PARIS
live streaming performnace on:
http://www.ustream.tv/broadcasterpage/18317045
09. March 2014
EIN WEIßER FLECK
Performance and live streaming von Innsbruck, 09. March 2014, 19.30
http://www.ustream.tv/channel/der-weißer-fleck?utm_campaign=ustre.am&utm_source=ustre.am%2F1b4kL&utm_medium=social&utm_content=20140309122007